The concert will take place in Kresimir Cosic Hall at 20h this Friday, the 30th of August. It is Rita Ora's first time in Zadar and tickets are still available at Ticketshop's official website.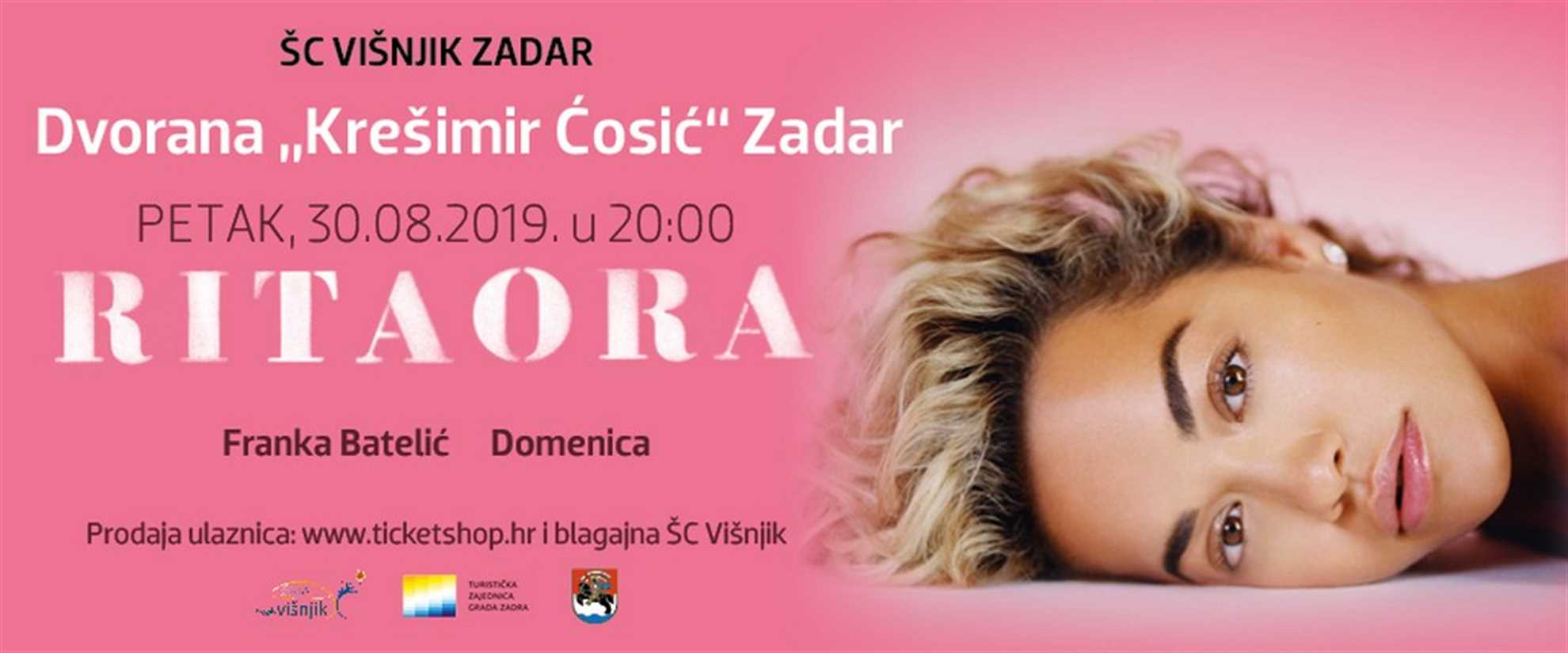 Rita Ora in Zadar, photo from www.ticketshop.hr
A little bit about Rita Ora
Rita Ora is a global pop star with Balkan roots as she was born in Prishtina. A few of her most popular songs are: Let you love me, I will never let you down and Anywhere. Check the Youtube video below for one of her hits Let you love me:
How to get to Zadar
There are numerous flights you can take to Zadar airport. Just check Ryanair, Easyjet, or other airlines for your dates. From the airport, we recommend you to take a shuttle to Zadar downtown. Renting a car is also an option but with limited car parking possibilities perhaps it is best to use Uber or similar companies' services for transport in Zadar. Our agency can also help you with transfers to Zadar.
Must see things in Zadar
If you visit Zadar, there are few thingsyou simply must experience besides the concert and those are Zadar's Sea Organ and Greeting to the Sun.
The Sea Organ in Zadar
This is a unique architectural monument and experimental music instrument in Zadar. It is located next to the sea and it looks like a series of steps with tubes inside which enable the waves to play the music. Therefore, the music is never the same and it is awesome to hear. We recommend you to sit on the stairs, listen to wonderful sea music, gaze at the sea and just chill.
Photo of Zadar Sea Organ from commons.wikimedia.org
The Greeting to the Sun
Near the Sea Organ, the Greeting to the Sun is situated. This monument is designed with glass plates with photo-voltage solar modules that collect solar energy and light the sky at night time in different ways so we recommend you to visit it in the evening.
Photo of Zadar's Greeting to the Sun by pixabay.com
Church of St. Donatus
For those who love the past, we can recommend the Church of St. Donatus which is a pre-Romanesque church with a bell tower and one of the most important monuments that time in Croatia. For great photos climb the bell tower.
Church of St. Donatus in Zadar, photo from pixabay.com
Where to eat in Zadar?
Furthermore, you will need a place to eat during your stay in Zadar. There we will recommend a few good restaurants but of course, there are many more and each day new restaurants in Zadar open their doors to the public.
Restaurant Kastel in Zadar
Our recommendation for fine dining is the Restaurant Kastel which is the restaurant of the Hotel Bastion which is one of the few Relais Chateaux hotels in Croatia. We recommend it for the food, but also for the setting and the sea view. Regarding the food, it is a Michelin Star restaurant, do we need to say more?
Photo of the restaurant Kastel fromwww.facebook.com/pg/HotelBastionZd
Pet bunara restaurant
For local food, choose Pet bunara restaurant where you can taste the best authentic meal with a modern twist at a reasonable price. It is situated at the Pet bunara square in the center of Zadar.
Photo of Pet bunara (Five Wells Square) from www.zadar.travel/en
Where to go swimming in Zadar?
After a good lunch, get ready for some chilling at some of the local beaches: Kolovare beach, Borik beach or Diklo beach (a couple of kmfrom Borik). Most of the Zadar beaches are pebble beaches with a great choice of fun beach activities.
Photo of the Zadar beach Kolovare from the Zadar Tourist Board
Where to stay in Zadar area?
Finally, you will need a place to stay during your visit and this is where our agency can help you. Just follow the link to our Villas in the Zadar area and check to villas in our offer.