Spice up your holidays in Croatia by a one-day visit to Krka Waterfalls National Park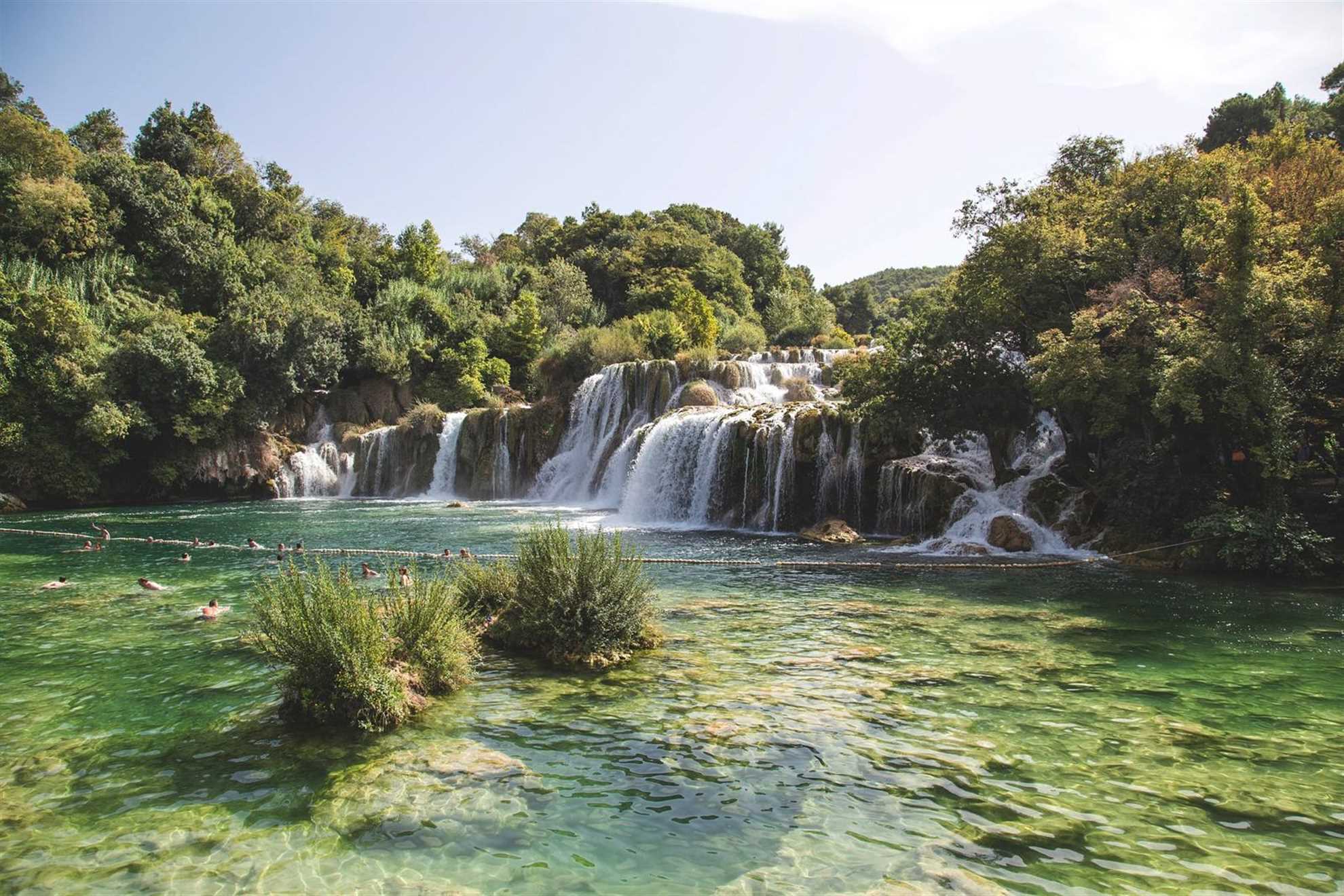 Skradinski Buk, the main waterfall of Krka River
Krka Waterfalls National Park covers the major part of Krka River. There are seven big spectacular waterfalls with travertine cascades that were created in the centuries-long process by the influence of minerals rich water. At the bottom of the main waterfall Skradinski Buk, there is a designated swimming area where you can dip in for a refreshment on a hot summer day. The other two main attractions are Roski slap (slap is Croatian word for waterfall) and the small island Visovac with the Franciscan monastery.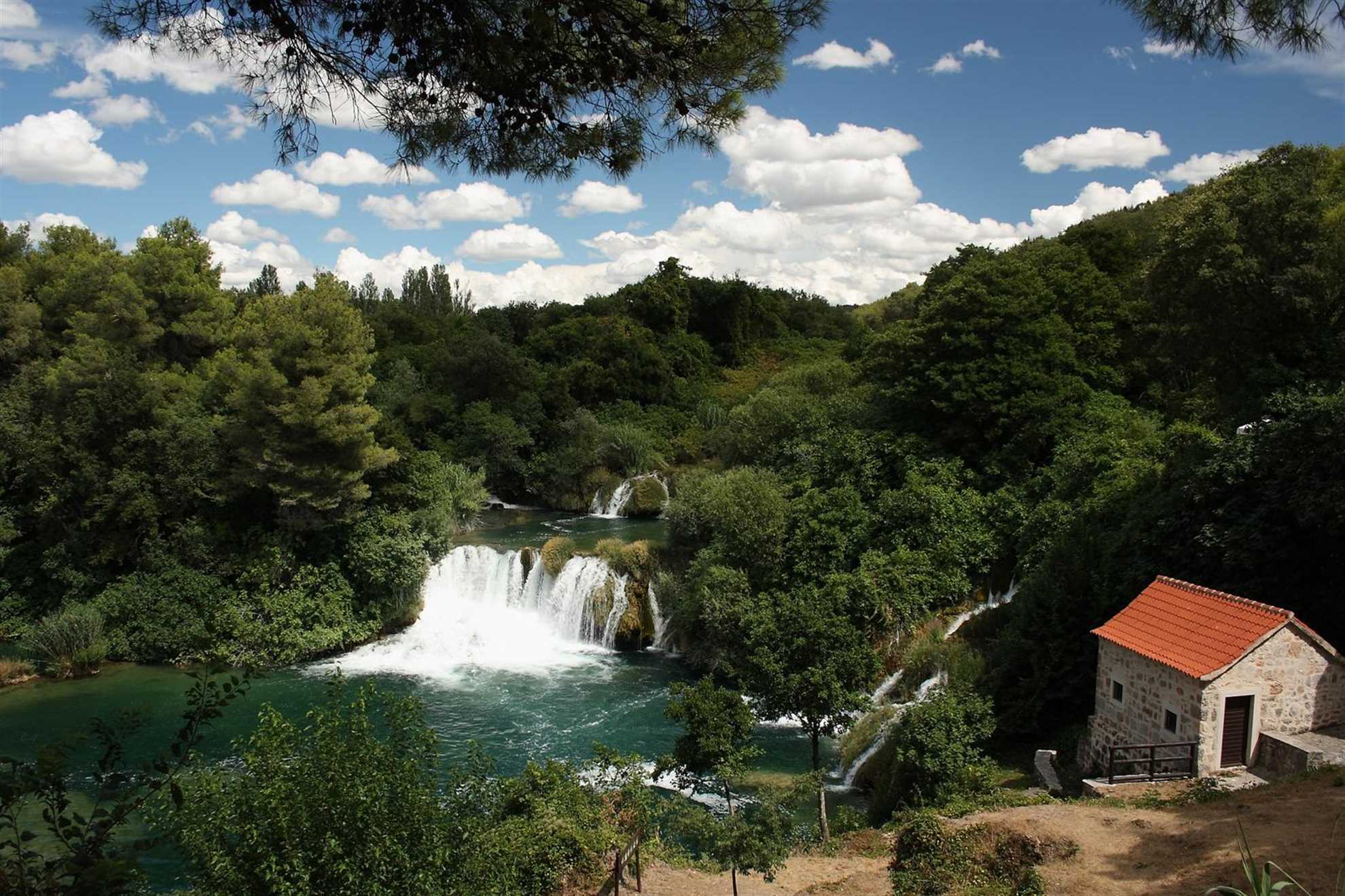 Krka Waterfalls, National Park in Central Dalmatia, Croatia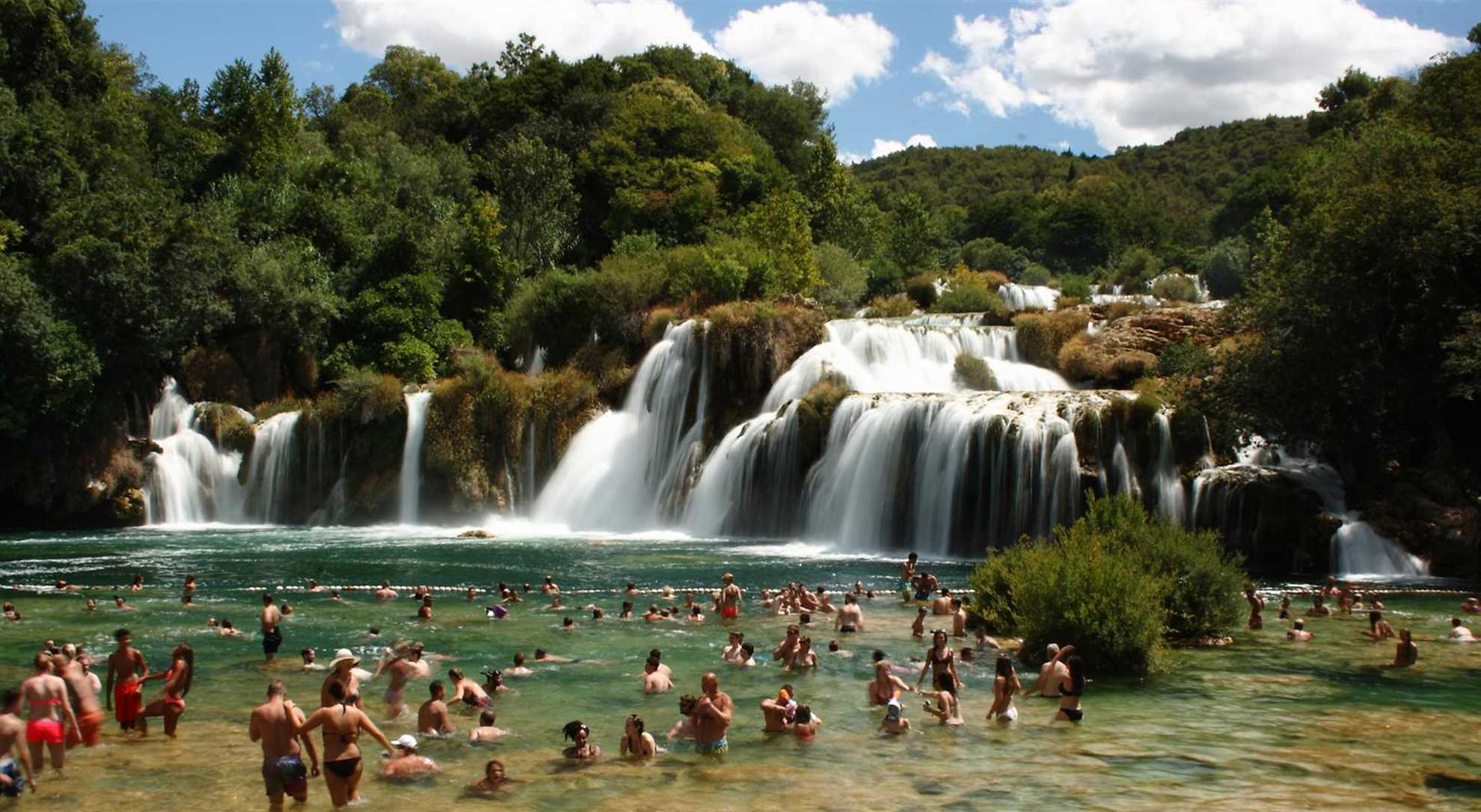 Skradinski Buk, the main waterfall of Krka River with swimming area
How to get to Krka Waterfalls from your holiday rental in Dalmatia
National Park Krka Waterfalls is located in Central Dalmatia, halfway from Split to Zadar, near Sibenik city and small town Skradin. It is easy to reach by car from any place on the coast. Actually, there is a freeway exit only a few miles from Skradin, the starting point of walking and boat tours to the entrance to this national park. So, if you decide to spend a day on holidays in Croatia in a different way than just enjoying the sea, sun and relaxing in your beachfront holiday villa or apartment in Dalmatia, you can enjoy in the beauty of the green forest and emerald waters of Krka river within approximately one hour drive from your holiday accommodation.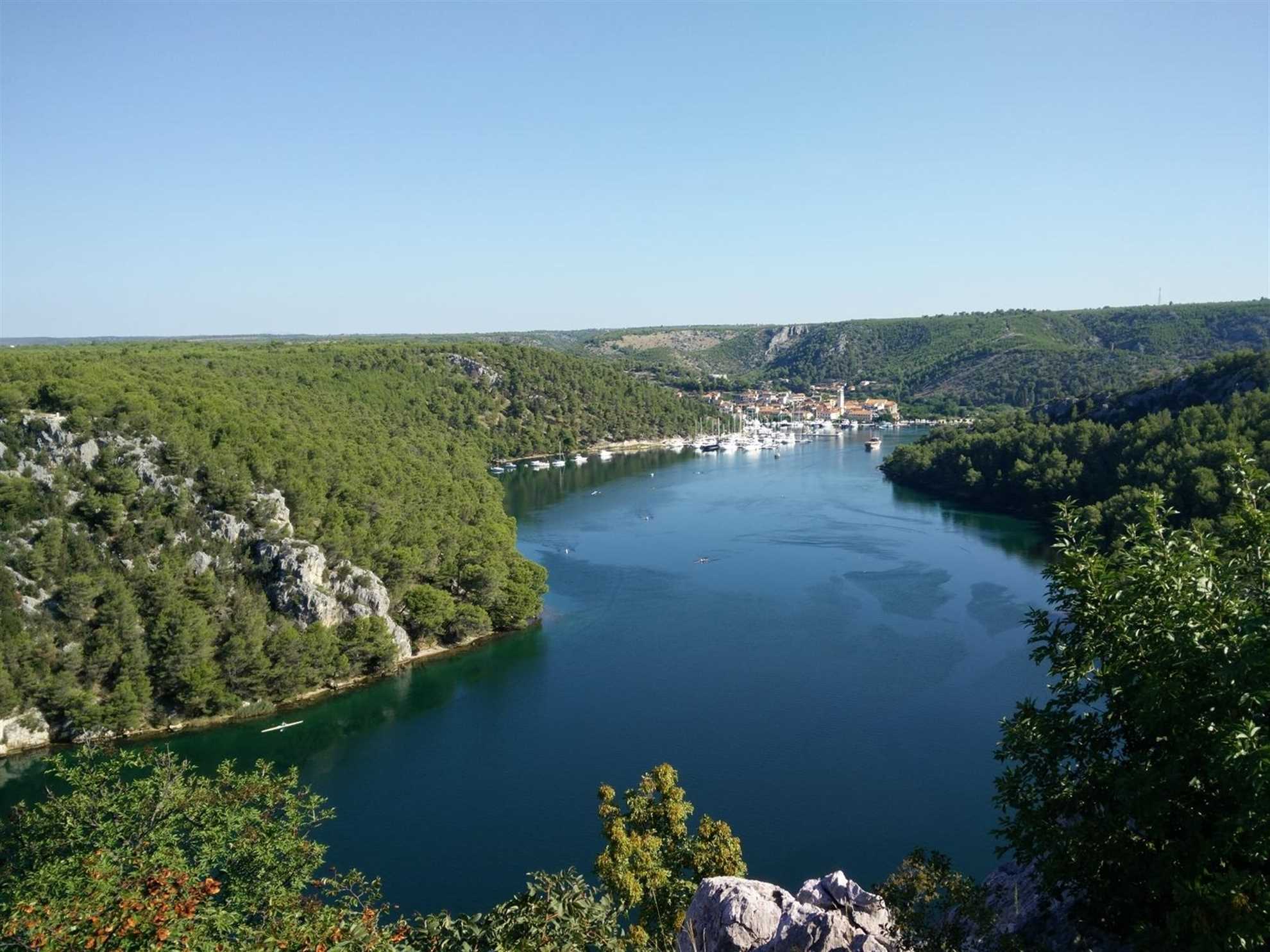 Skradin, small town at the mouth of Krka River
If you are staying on islands Hvar, Brac, Korcula or in Dubrovnik area, it will take 3-4 hours to get to Krka Waterfalls. If this is the case and your holiday rental is located one of Dalmatian islands or in Dubrovnik region, we recommend organizing your itinerary in the way to put the visit to Krka Waterfalls National Park on the first or last day of your holidays in Croatia. Split Airport is only 45 minutes drive from the Skradin, so you can book your first or last night in Sibenik region or inSplit area and then explore the islands or head to Dubrovnik.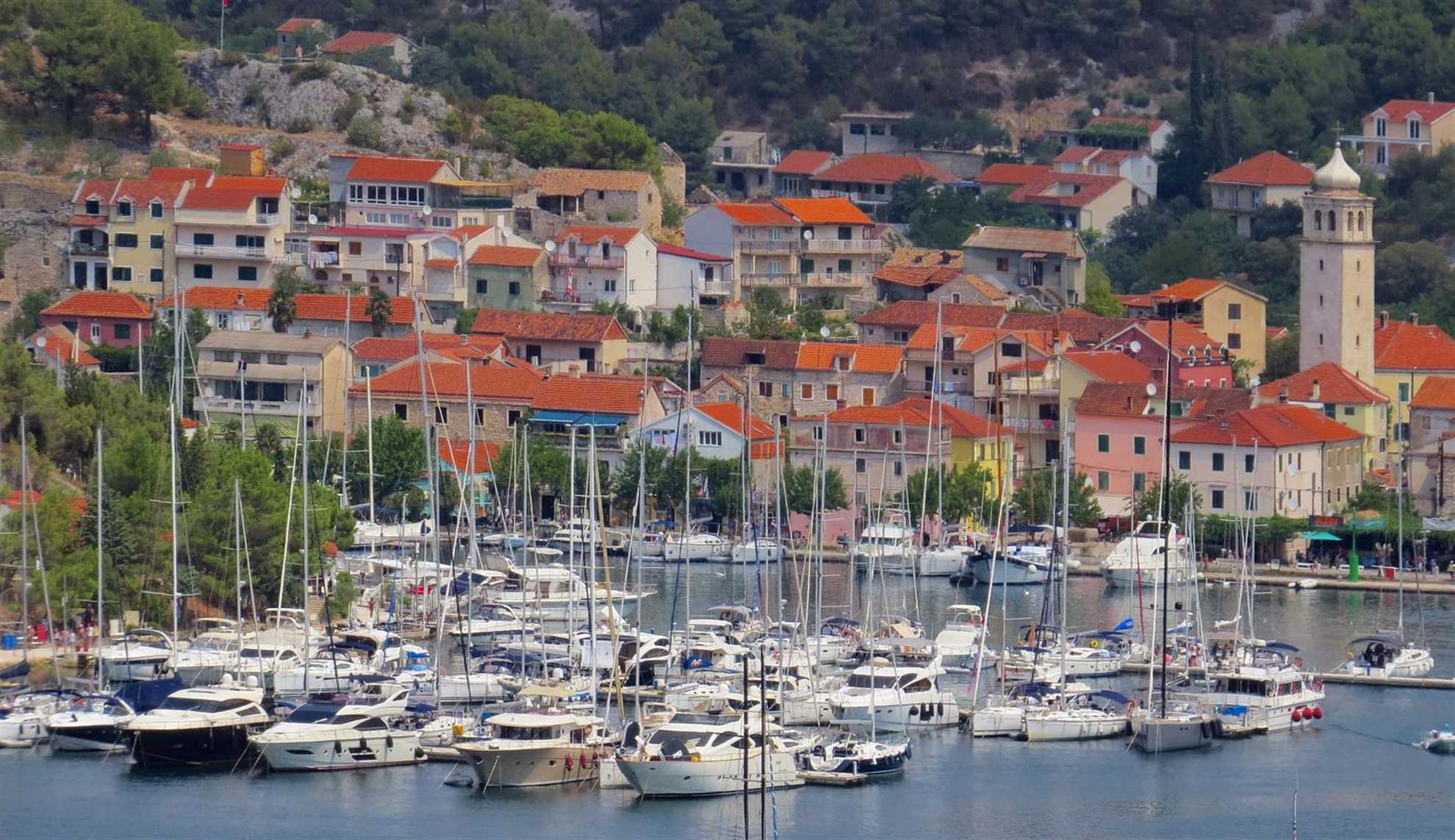 Skradin, view from the bay
If you are not traveling by your own vehicle, we recommend renting a car or contacting your Vip Holiday Booker travel specialist for organizing car transfer to and from the Krka National Park. You can opt for guided tour or travel by bus, but keep in mind that then your activities during the excursion will be limited by the bus schedule or excursion provider's itinerary.
Once, when you get to the entrance of theNational Park Krka Waterfalls, you can choose either to take a boat ride or walk to explore magnificent waterfalls.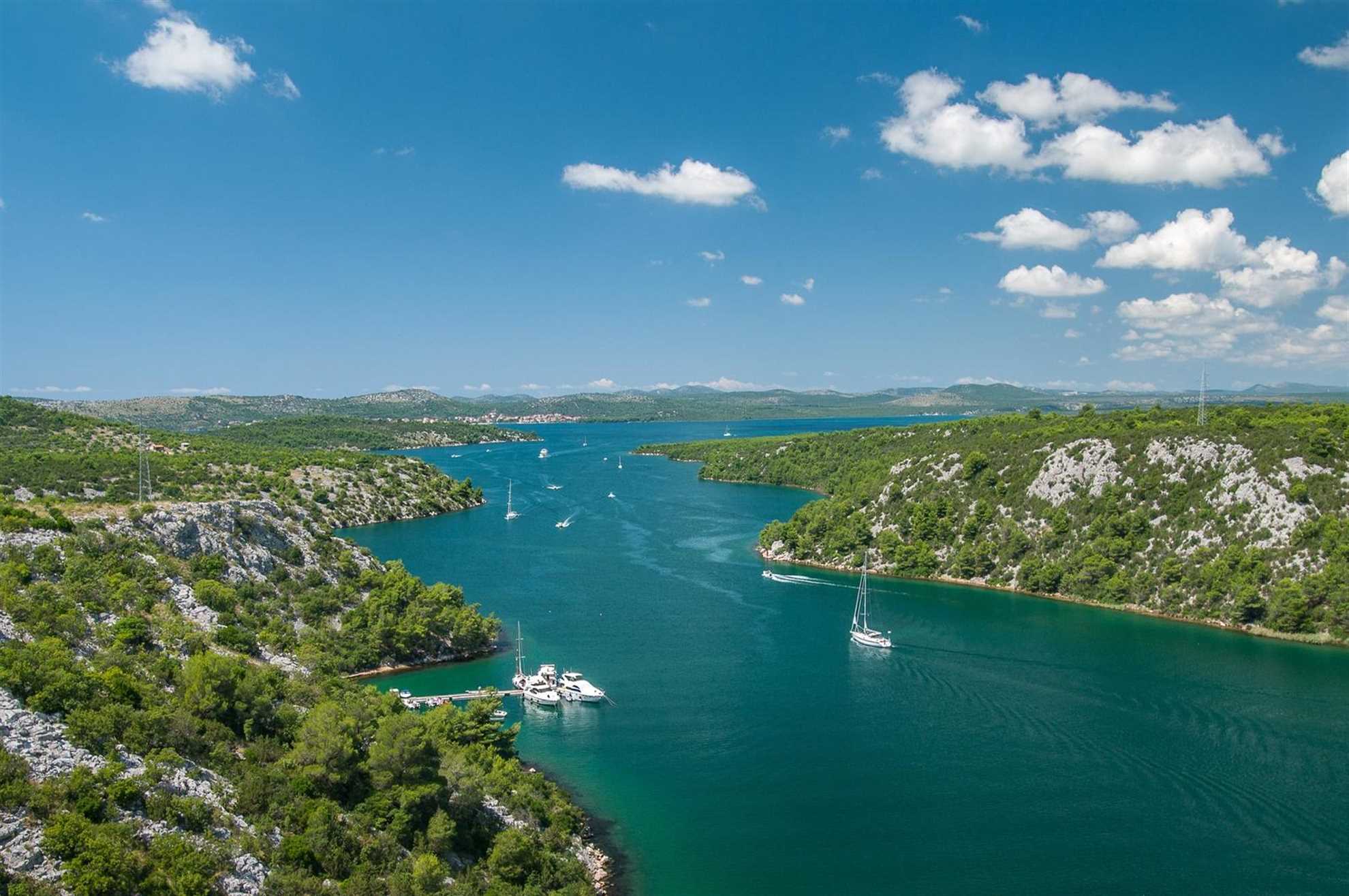 Krka River, Central Dalmatia
Ticket information and opening hours you can check directly at National Park Krka Waterfalls Tourist Board or you can contact your Vip Holiday Booker travel specialist to provide you all necessary information, or even organize the whole trip.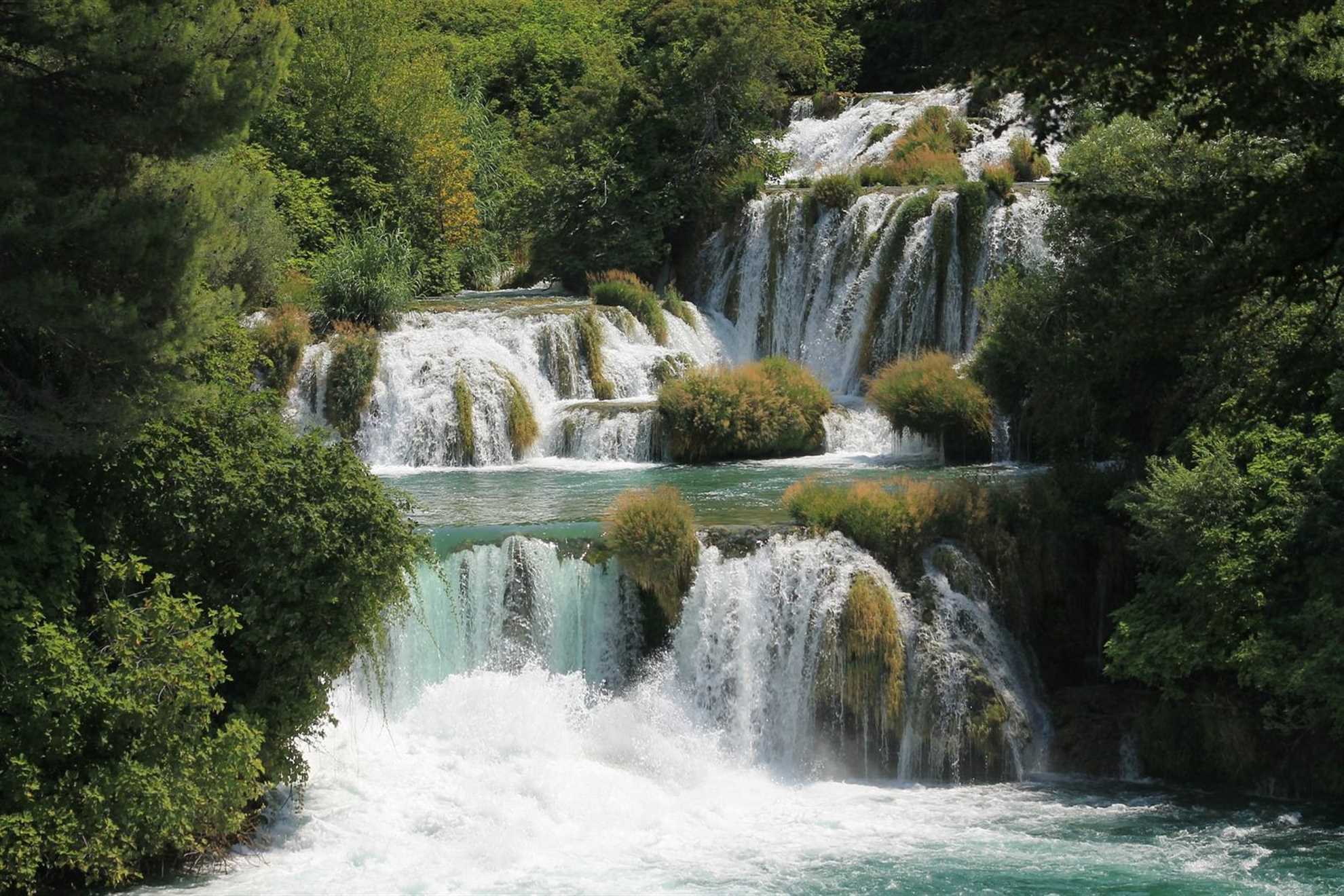 Krka Waterfalls
Where to stay if deciding to visit Krka Waterfalls and Sibenik area
If you landed on this page looking for travel inspiration, but still didn't find your convenient holiday accommodation in Croatia, browse through the Vip Holiday Booker offer of holiday villas, beachfront apartments and luxury hotels on Adriatic Coast. Here you can find luxury villas in Dalmatia, boutique hotels and exquisite apartments near the sea or holiday homes with the pool in Dalmatian Inland. There are some of the most luxurious holiday villas in Primosten, just a half an hour drive to Krka Waterfalls National Park.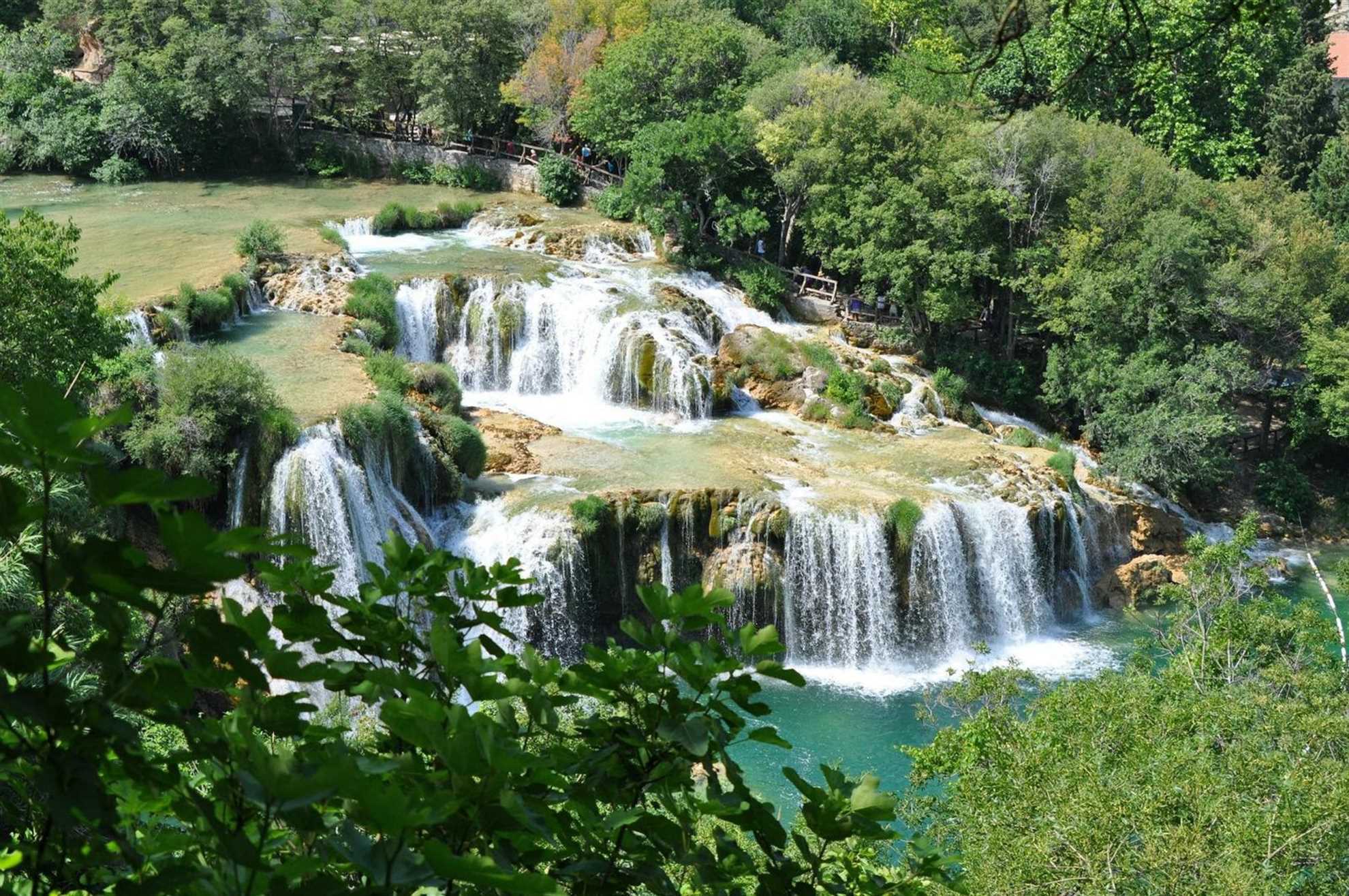 Aerial View, Krka Waterfalls
Why visit spectacular Krka Waterfalls in Croatia
Visiting Krka Waterfalls is a perfect choice to spend the great day out with family or friends while on holidays in Croatia. Krka River is so beautiful and calming. The waterfalls themselves are spectacular, so powerful and amazing.
You can swim and refresh yourself on a hot summer day in the lake near the biggest waterfall Skradinski Buk. There are restaurant and cafe or picnic place where you can take rest and admire the diversity of wildlife and listen to the sound of tumbling water. Swimming in the water by the falls is an amazing experience but also is the walk around the national park!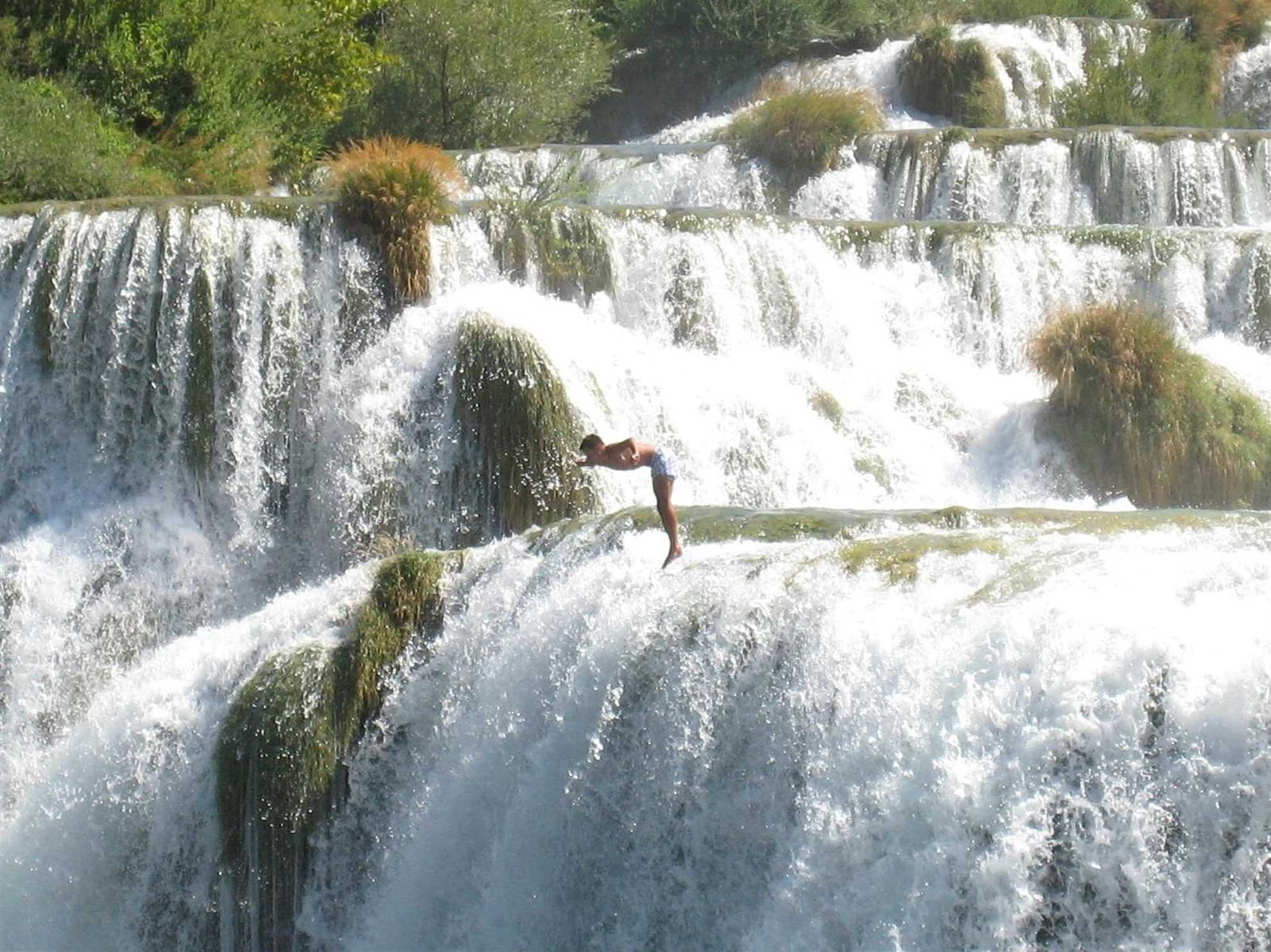 Skradinski Buk, Man Jumps in the Water
Wander on the pathways through the deep green forest and wooden stroll walks above water. Listen to birdsong mixed by the sound of water tumbling and bubbling. Enjoy in breathtaking sceneries of white waterfalls where water tells its story.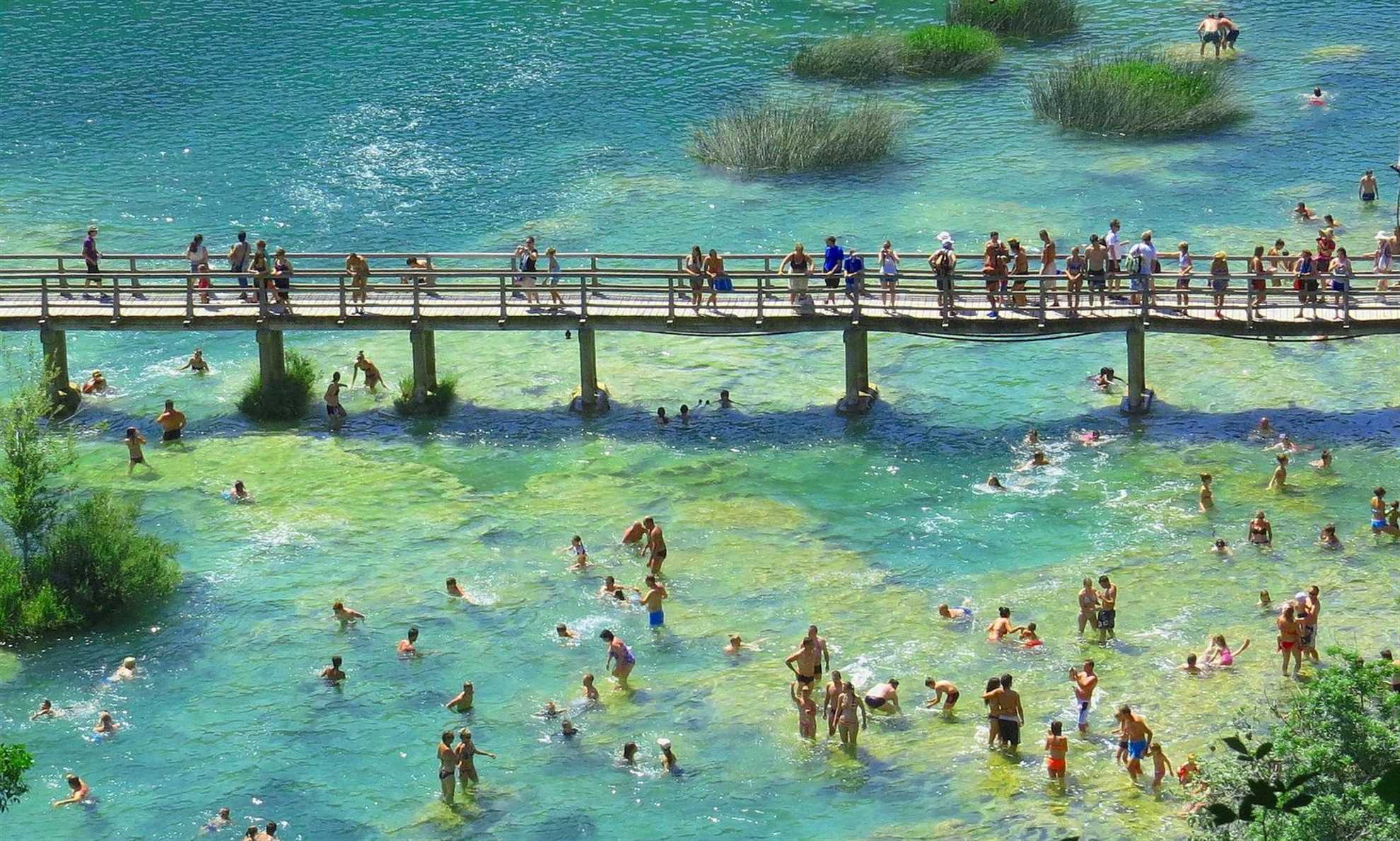 Wooden Pathways above Water, Krka Waterfalls National Park
National Park Krka Waterfalls should not be missed if you are on holiday in Croatia. Experience yourself the natural beauties captured on so many astonishing photographs. End your day by visiting the nearby city of Šibenik and the historic Cathedral of St. James.
If you have any questions or interested in the fact that it is not covered in this blog post, please leave your comment below or write to us. We will be happy to provide you with all the necessary information to plan your visit to Krka Waterfalls National Park in Croatia.